Our first in a series…..Bermuda Run Business Spotlight: Meg Brown Home Furnishings.
Bermuda Run is home to over 50 small businesses, each offering something unique and making this community feel more like home. One of those local businesses is Meg Brown Home Furnishings. Over the past year, Meg Brown expanded its selection and now offers the Sleep Shop and Outlet. And with the new addition of this retail space located in Bermuda Run, NC, filling your home with beautiful pieces has never been easier.
Davin Brown grew up in the furniture business and Megan Brown was an interior designer in High Point before they decided to join forces and use their combined skill sets to open a furniture store. Opening the doors to Meg Brown Home Furnishings in 2006 was just the start; they began with the goal of "being a store with great style, value and customer service". They have certainly achieved this and continue to expand, touching rugs, fabrics, draperies, gifts, and now even The Sleep Shop.
The Sleep Shop
The Sleep Shop will offer customers a larger selection of mattresses and adjustable bases from the best brands at great prices. Davin and Megan "started thinking about how many local customers drive right by [their] store on the way to a mattress store because they think they'll get a better deal, selection or simply don't know Meg Brown is in the mattress business". So, they've added The Sleep Shop in order to dedicate a large space with most major brands, "so that we could keep some of that business in Davie County".
In here you'll find most major brands and a selection of Tempur-Pedic, Sealy, Serta, and Stearns & Foster. "We have everything from a $399 queen mattress to higher-end luxury mattresses," said Davin Brown. Additionally, customers can find affordable motion bases, some with the Zero Gravity feature.
After hearing that some people thought the store wouldn't have affordable options, Davin and Megan began considering more ways to reach new customers. "Usually, customers are pleasantly surprised by our prices," Davin said, "but we have to find a way to get them through the door."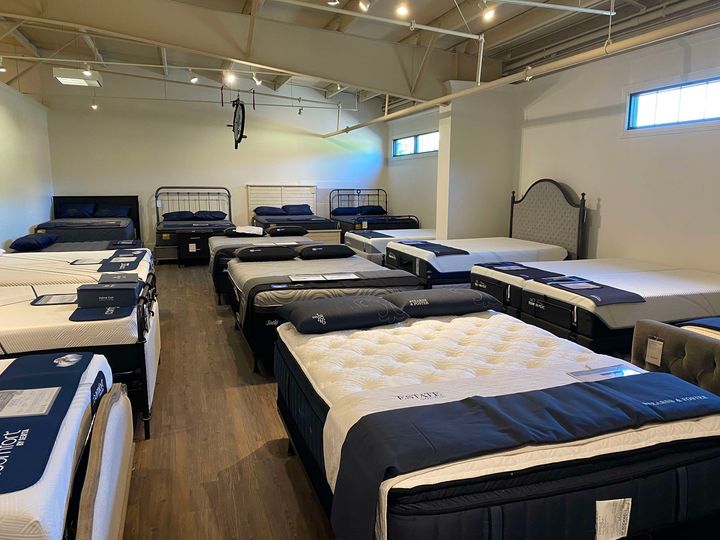 The Outlet
In The Outlet, you'll find factory closeouts and market samples mixed throughout. With sofas starting at $599, chairs and recliners starting at $329, bar stools starting at $79, bedroom suits and fabric headboards for $349 and dining room sets, there's something here for every room of your house at an affordable price.
If your home is missing a piece of furniture, an accent decor piece, a beautiful rug or just the one thing that can bring the whole room together, you can find it at Meg Brown Home Furnishings. And you can rest well on a brand new mattress from The Sleep Shop knowing that it comes from a local store you can trust.
"Our county and our community has supported us from day one and that has not changed. We appreciate everyone's support for local businesses during these times."
Whether you follow them on social media, sign up for their email list, browse their website or shop in store, you can continue to Do A 180 to Bermuda Run and support local retailers like Meg Brown Home Furnishings!