Do A 180 to Bermuda Run, NC …
Play here!
Truist Sports Park – 428 Twins Way, Bermuda Run, NC
Truist Sports Park in Bermuda Run is the perfect venue for soccer, lacrosse, field hockey, ultimate Frisbee, flag football, and other types of events. The facility is also ideal for offering camps and training academies, like cheerleading, soccer, football, running, and more. Features include:
13 full-size soccer fields, including four artificial turf fields, and 11 fields with lights
Stadium field with a large seating area
Numerous elevated viewing areas
Parking for 1,200+ (300 paved lot and 900 gravel / grass)
On-site concessions
Large restrooms
Wireless Internet
Team classroom
Multi-purpose meeting room with multi-media, audiovisual, and seating for 120
Office facilities
If you're looking for the perfect sports tournament venue with everything you need in one location, and convenience for your guests to restaurants and amenities, Truist Sports Park is it!
Truist Sports Park is conveniently located off of Exit 180 from Interstate 40. We're located just a few hours drive from most major metro areas in the Southeast.
If you need help planning your tournament, such as locating lodging, food and other amenities, the experts at Truist Sports Park are available to help you. This may also include helping you locate officials for your particular sport.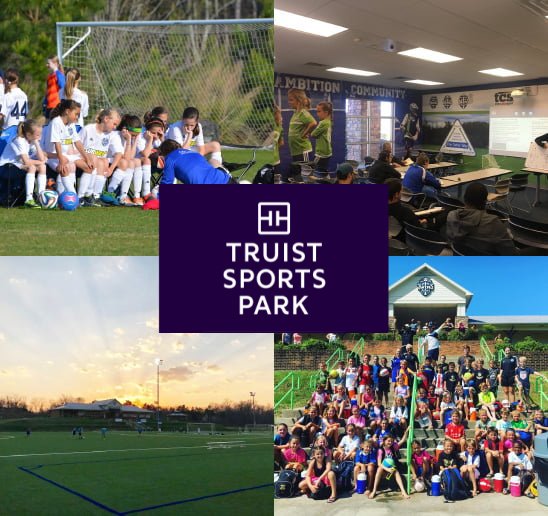 RISE Indoor Sports – 419 Twins Way, Bermuda Run, NC
RISE Indoor Sports, a 123,000 square foot sporting facility, is a combination of community recreational programs, health training and competitive tournament sports. This premier sports complex aims to provide everyone from the general public to elite athletes an unparalleled experience. Amenities include:
8 high school regulation basketball courts
12 volleyball courts
28,000 square feet of sports indoor turf
8,300 square feet dedicated to Torque Performance Training
2,500 square feet of sports therapy space
Cardio and Fitness Center
Concessions with indoor and outdoor dining
Golf
Gorgeous landscapes, rolling hills and fair weather make Bermuda Run and the surrounding area a golfer's paradise. Choose from one of the many award-winning golf courses and clubs nearby, and walk many of the same courses are many world-class professional golfers.
Several of the golf courses in the area have been stops for PGA, LGPA, and Senior PGA sanctioned events. Imagine teeing off from the same spot as some of the greatest golfers that have ever played the game!
In addition to being a golfer's paradise, Bermuda Run has been listed as one the best places to live after you retire. Check out this link to see for yourself! Or, click here to learn more about our town.