During the last few weeks you've probably spent a little more time reading, maybe completed a few 500 piece puzzles, streamed a few shows on Netflix and wondered about what else you can possibly do. Well, we've got the answer for you–support local businesses and have fun with Bermuda Run Bingo!
Bermuda Run bingo has been a hit on social media, giving people a fun way to spend a day in Bermuda Run and encouraging new ways to explore the place you call home. Good news is, everyone can win bingo and you can play as many times as you'd like! This is a great way to spend time with your family and support the local community, even during a global pandemic.
How It Works
Here's how it works, use this bingo board and mark off the things that you have done. If you're missing a space that would help you get Bingo then that's what you need to go do! Next, once you've gotten Bingo, share your board on social media and tag @doa180brnc so we can see and continue showing support for our local community. For extra fun, try and fill the entire board!
Grab your friends and family–support local businesses and have fun with Bermuda Run Bingo! Here's how to fill your card:
Been to a concert at Tanglewood Pizza Co.
Purchased garden supplies from Steelman's Ace Hardware
Shopped at Meg Brown Home Furnishings
Visited Winmock
Enjoyed dessert from Maddie Cakes Bakery
Ordered queso from Los Toritos
Played golf in Bermuda Run
Had a frosty from Wendy's
Attended a worship service
Been to a tournament at BB&T Sports Park
Visited the local farmer's market
Shopped at Bizzy Beez
Read the Do A 180 blog
Ate chicken tenders from Zaxby's
Walked around Davie Medical Center
Seen the Do A 180 billboard
Been to a summer concert at Bermuda Run Town Green
Ordered groceries online from Lowe's Foods
Rode the waterslide at The Hampton Inn
Met Mayor Rick Cross
Driven by the new Comet at Bermuda Run apartments
Noticed the Blue Heron statue in the 158 roundabout
Practiced yoga at Grace and Exhale Yoga
Ordered takeout from Davie Tavern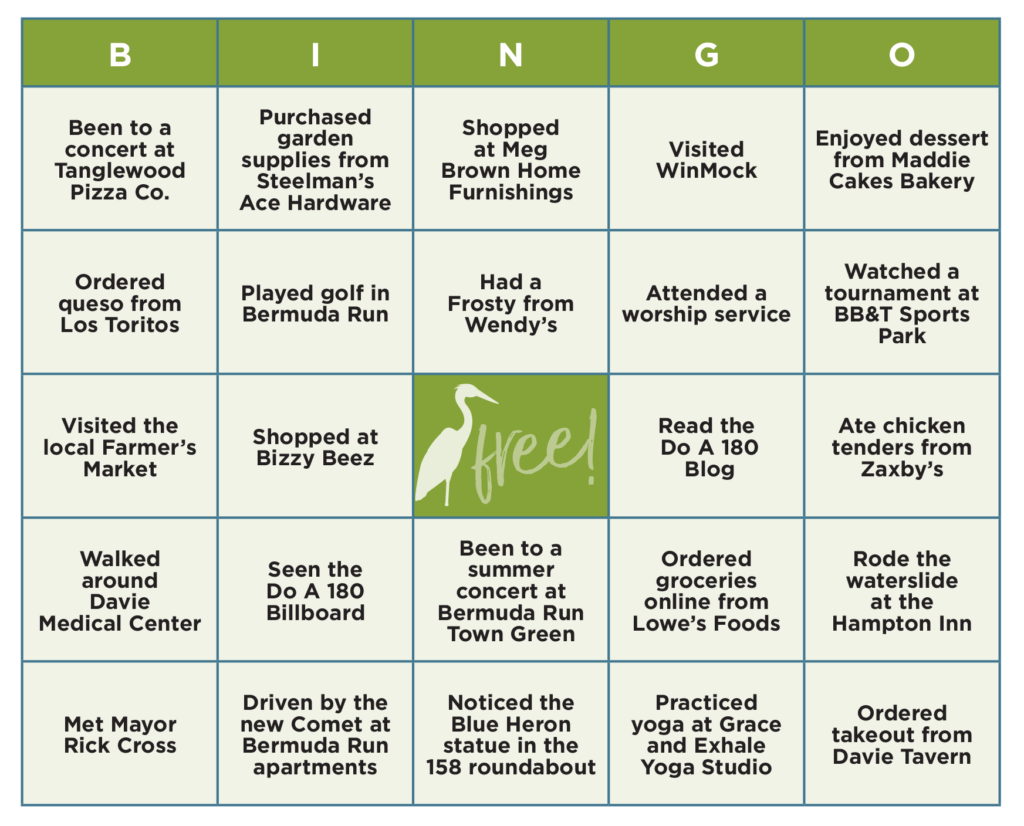 Looking for a few ways to add some bonus fun to Bingo? Here are a few ideas:
Take a picture at every place you go as you fill up your board and tag us on social media
Fill the entire board and do all 23 things on the list
Create your own Bermuda Run bingo board and tag us on social media
We can't wait for you to explore the place you call home and see it in a new way as you fill up your Bermuda Run bingo board! As you fill up your board, comment "BINGO!" in the comments as a way of showing support for your local businesses and your community during Covid-19.